Clara Ponty : Chant, Piano
Olivier Louvel : Guitare, Saz, cœurs
Gilles Coquard : Basse, cœurs
Edouard Coquard: Batterie, cœurs
On connaissait la pianiste et compositrice de talent, quel plaisir de découvrir la chanteuse ! Après cinq albums à dominante instrumentale, Clara Ponty nous revient au disque avec onze titres originaux, dont neuf chantés. Celle que l'on a surnommé la « fée du piano » franchit ainsi une nouvelle étape : elle initie une carrière de songwriter. Clara s'accompagne au piano et chante à la tête d'un groupe aux parfums pop-jazz-soul assumés. Le producteur Stuart Bruce, dont le Curriculum Vitae laisse rêveur, donne une superbe patine à cet univers musical séduisant et raffiné, élaboré entre Paris, Londres et New York. Tout en s'appuyant sur le charme de ses mélodies et le pouvoir d'évocation de ses harmonies, Clara se livre cœur et âme. Elle s'est entourée d'une équipe de musiciens et d'invités prestigieux : Vincent Segal, Jean-Luc Ponty, Nigel Kennedy, Stéphane Guillaume, etc. La chanteuse distille tout au long de l'album des mélodies qui ne vous quitteront plus. Avec cette pop lumineuse (le single « Sunshine », au refrain entêtant !), ces ballades délicates (« Taking Turns », « Take Me Along », « You »), ces hymnes entrainantes (« Just like A Dandelion » et sa ligne de basse reptilienne), et même un titre chanté en français, ce nouvel album séduira tous les amoureux de pop adulte et intimiste, quelque part entre Joni Mitchell, Carole King, Burt Bacharach ou, plus proche de nous, Yael Naim.
| | |
| --- | --- |
| The pianist, singer and composer Clara Ponty's diverse musical background is the source of inspiration for the development of her unique musical body of work. Born in Paris and raised in Los Angeles, Clara was immersed in many musical genres thanks, in large part to her father, world-renowned jazz violinist and composer Jean-Luc Ponty. She began studying violin and piano when she was five, wrote her first piece when she was eight and won her first piano competition at age 11.The classically-trained pianist (Interlochen Arts Academy, Maryland Conservatory and USC) abandoned competitive performing in her early twenties to focus on writing. Clara's career was officially launched with her 1997 self-titled debut recording for Universal Records. It featured the artist performing original works for solo piano. It was followed in 1999 by « The Embrace » (Universal Records) on which Clara Ponty communicated her depth as a composer, pianist and vocalist with ten new original works. Both recordings met with critical acclaim (People", « Forbes magazines », Time Out) and revealed her as a soulful artist that creates unique, delicate and emotionally intense compositions.Her third album entitled "Mirror of Truth" (J.L.P. Productions Inc), co-produced by her father, was released in 2004. This third album fully showed Clara's tremendous power as both composer and pianist and displayed very strong classical elements as well as Jazz and improvisation qualities. | A new CD entitled ECHOES has just been released in November 2010 in Europe (C.A.R.E. music group/Eden Records). This new jazz album of thirteen original compositions is in collaboration with renowned European jazz musicians, Wolfgang Haffner, Dieter ILg and Ernst Stroer. Produced by Wolfgang Haffner who has since the 1980's been one of the most prolific German jazz musicians working with greats such as Johnny Griffin, Clark Terry, Pat Metheny, Bill Evans, Chaka Khan, Mc Coy Tyner and Joe Pass.Today, Clara Ponty is that rare artist, whose enticing voice and virtuoso level playing fuses her classical heritage with jazz and pop rhythms into a seamless stream of captivating sounds.Speaking about her life as an artist she says, "music for me has always been a much more exact communication than mere words because it allows me to explore a dimension of the soul that I cannot express in ordinary language. Creating music gives me the courage to realize emotions that I might not be able to draw out otherwise, and I can tap into worlds that can transform me and contribute to my evolution as a human being ». |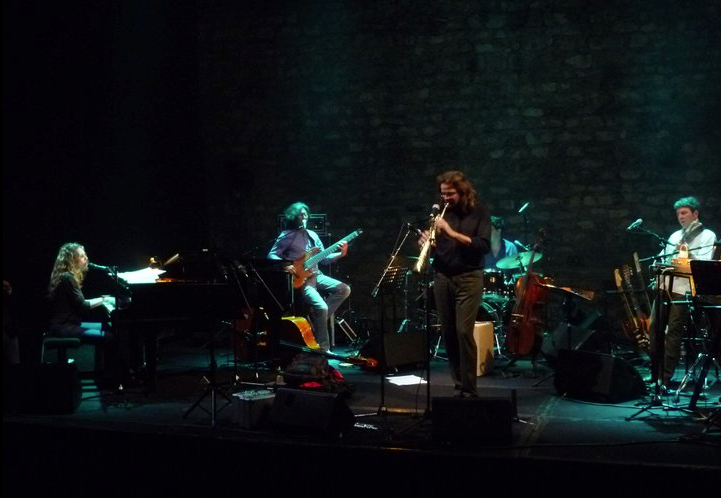 Into The Light
6th June 2012
The Pheasantry King's Road Chelsea
Anyone remotely familiar with my articles will know that I don't write up anything I can't describe as excellent and Clara Ponty's no different – this is an exceptional talent whose latest album "Into The Light" could and should be the springboard to stellar stardom.
And so it was that on a quiet muggy Wednesday night I was hit out of the blue by a full-on genuine life-enhancing experience with stunning music and musicianship in the intimacy of The Pheasantry in the round. Due to an admin cock-up their end I ended up paying for my ticket and indeed my "plus one"'s (my old muso-mate Chris Wyatt) but I didn't have the heart to try and get a refund because at a couple of dozen quid it was the best evening's value I've had since I gave up downing bottles of Macallan "Ten Year Old"; possibly better even.
In 30 years of living within 20 minutes of The Pheasantry I was experiencing both venue and artist for the first time – I'm usually familiar with one or the other. I like the Pizza Express and music format pioneered by Pizza on the Park so have to say I went along with a reasonably positive attitude. I'd also done my homework – Clara Ponty is so interesting a musician I felt at once embarrassed that I hadn't been familiar with her work (or indeed her illustrious father's) while at the same time genuinely grateful to Kensington and Chelsea Today for sending me along. At four strong the band represented about a quarter of the room and there was gentle relaxed banter as they confidently took up their stations. It really is a good venue with great service, some style, and genuine history – and I kid myself with these thin crust pizzas … ok not really.
Cleverly the back of the room was kept empty and we were all crowded round the stage in amongst the musicians. The marketing of Clara Ponty in the UK reflects her French and American connections – based in Paris she's also spent time in California and is far bigger across both continents that she is in the UK. Surely they are missing a trick with what I genuinely believe Britain to be, and that is the home of the most eclectic catholic and sophisticated music audiences. And we've been missing a treat that I believe when properly re-launched in the UK will be a big hit – the fact that Clara's a charmer with great stage presence won't hold her back much either.
The set Clara told us would focus on her latest album "Into The Light" 2012 – it's her only album to date to focus on her vocals, the previous ones being in the main built around her piano-playing – it had been billed as an "Into The Light" gig and the guitar piano bass and drums suggested a rockier format than her earlier music which is steeped in Clara's classical roots.
True to the billing both opening numbers were taken from her 2011 album released in the UK barely a couple of weeks ago. "Take me Along" introduced more of a new-age feel than might have been expected but the strong classical element of Clara Ponty's work still comes through in what might described as pop-orientated jazz. The stylised and chic music added to the cabaret style seeting Has echoes of Lambchop. "Take Me Along" is a strong set-opener and a good evening was promised. The set took us through "Ses Racines sur la Route" and the powerful rhythm section came to the fore, as the father and son paring of Gilles Coquard on bass and Edouard Coquard – always a good sign when the bassist provides sound backing vocals. Gilles Coquard's bass was another central feature of the evening, especially brandishing a dramatic six string lead with the lower two strings set up as fretless.
It was at this stage that Clara Ponty announced that this was her first ever concert in London, indeed in the UK. As the set progresses through "Migration" and "Echo" and back to the current album for "The Path" we see each of the four highly capable musicians and indeed showmen come to the fore with Edouard Coquard on drums rivalling Gilles for flamboyance. Each track stood on its own merits and none were superfluous fillers, but "Echo" was a particularly strong track with all four instruments emerging into multi-lead crescendo. All this is underscored by the brilliance of Clara's piano-playing and indeed the subtlety of Olivier Louvel's lead guitar. This is a truly excellent band and the most spectacular happening mid-week, over a pizza, out of the blue.
"The Path" sees Clara step upstage and takes lead vocals away from presumably the comfort of her piano. A genuine all-rounder, Clara could make it as a vocalist and while it's good to see her stretch herself presumably the piano will always play a big part in her repertoire – although to be honest I do like a bit of piano myself. "Soul Wonders" from the latest release and "The Embrace" from "Echoes" and a co-written as yet to be released track "These Moments" completed as strong a first half as I've ever heard pretty much cold.
After a brief interval the band got back to work, seasoned pro's totally at ease interacting with probably the smallest audience they'd ever face. Each and every one of us knew we'd been treated to something very special indeed, with a second half even smoother than the first and perhaps even more innovative.  We were taken through a variety of pieces from the back catalogue including "Romance" and indeed "Glimpses of Paradise" the evening's only representative from the excellent "Mirror Of Truth" album which was the only Clara Ponty work I'd heard before. "Mind Spin" was powerful and sounded like a concert favourite, and the set closed as strong as ever with "You", "Beautiful" and "Sunshine" and "Like A Dandelion". The call for an encore was very much lead by your correspondent although I have to say less out of courtesy to the band who'd given their all to less than two dozen punters, but out of genuine interest, and "Coeur a Coeur" from "Into The Light" didn't disappoint.
To cap a great evening Clara seemed more than happy to hang around and chat. Her intelligent and erudite music had captivated the audience for an evening but she seemed diffident about her influences. Perhaps they had been acquired as a child from her violinist father almost symbiotically, or even genetically. The consistent and accurate referencing and phrasing evoked fashionably seventies origins, much in the style of later Radiohead, Spiritualized and of course the more obvious comparisons with Lambchop. This is elegant modern music in its own right and the comparisons should not imply anything other than a most innovative take; music for musicians and people who really know their music.
And if you want to buy the album just click here
©James Douglas June 2012 – Douglas is music editor of Kensington and Chelsea Todaywww.kensingtonandchelseatoday.co.uk